What service we provide for you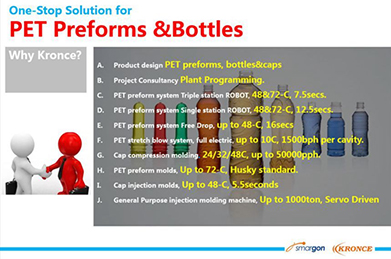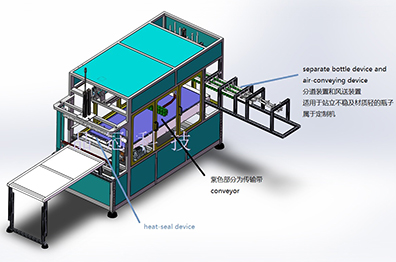 For Kronce, we are NOT ONLY one of the most professional manufacturer on PET equipment in China, but also the most important one-stop solution provider in China to provide the various solutions for our customer from the PET PREFORM, to PET bottle and plastic caps, with high class equipment and molds to sure the quality productions.
To say SUPET Series, you can also enjoy Kronce full range of service from A to Z through whole life of our equipment, like:
1. The whole line's factory layout
For our SUPET Series, you never need to worry about our machine and downstream equipment will exceed you plant arrangement without expectation. When we start the whole project, just send us your plant layout drawing. We will deeply check all the details and send our equipment arrangement for you. Even you don't have the plant layout drawing, we will also prepare our equipment arrangement and recommend the proper plant occupation. Meanwhile, we will calculate out all the water, air and electric consumption and recommend proper connection for you.
2. Bottle design
We can design the bottle as your requirement. Just send us your bottle sample or drawing or even sketch for reference, tell us your idea or concept, then, we make the design for you in both 2D and 3D file accordingly. According to requirement, we can also provide 3D printing bottle sample with reasonable cost to help you have clear idea about what's your product looks for.
3. Preform design
To produce nice bottle, you need good preform with properly design. Normal blowing equipment manufacturer has no capacity and experience to design good preform. Kronce is one of few companies in the market to provide professional design service for both bottle and preform. Our knowhow can guarantee you to have the preform design to have right profile, right weight, right stretch ratio and right production efficiency.
4. Recommend right preform supply source
After more than 20 years' operation in PET package field, we have accumulated abundant of source and can provide various possibility to our customer to get the top quality preform. For example, we know a lot of international preform supplier, we have plenty of customer to make preform all around the world, and we can also make high quality PET preform mold and injection machine to help you produce quality preform inhouse. In conclusion, we are willing to build the right bridge for you.
5. Supply downstream equipment
Besides SUPET series blowing machine and blow mold production, we can also supply all other necessary equipment to you. Thereinto, there are auxiliary equipment like air compressor, dryer, chiller, etc. Also, there are the downstream equipment, like Empty-bottle bagging machine, filling machine, the shrink sleeving machine, the palletizing machine, the packing machine and so on. Then, you can enjoy really one-stop service and has no risk to worry about each system's matching result.