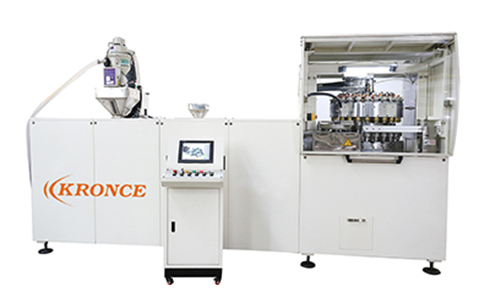 Cap Compression Molding System
Fast, Power Saving & Simple
Why compression is the best choice for cap?
● Low melting temperature, means energy saving and low cap cost.
● No injection point, means better performance.
● An effective control of the production repeatability.
● Machine is easier and quicker to manage.
● Longer efficiency periods of the machine.
● Reduced and easier machine maintenance.
The new technological and plant engineering solutions, confirmed the more competitive system of continuous compression molding, if comparing with injection system. The innovative character of this procedure, when compared with a melting process typical of the injection presses allows the big advantages.
With our SMCM series compression molding system, during the stripping of the molded and cooled closure, a new pallet is inserted into the cavity reducing, in this way, the lost time to zero; as a consequence, there is investment abatement under equal production conditions, above all for large quantities and highly demanding specifications
Technical

Data

UNIT
SMCM-18
SMCM-24
SMCM-32
SMCM-48
Model
Output Capacity
pcs/hr
17000~18000
23000~24000
31000~32000
47000~48000
Cap Diameter
mm
20~40
20~40
20~40
20~40
Cap Height
mm
10~30
10~30
10~30
10~30
Cap Material
PP/HDPE/LDPE
PP/HDPE/LDPE
PP/HDPE/LDPE
PP/HDPE/LDPE
Cavity NO.
18
24
32
48
Power Supply
380V/3PH/50HZ
380V/3PH/50HZ
380V/3PH/50HZ
380V/3PH/50HZ
Installed Power
kw
30
50
75
95
Air Consumption
m³ /hr,0.8Mpa
0.3
0.4
0.6
0.9
Machine Dimension
mm
2660×1200×2000
3800×1550×2100
5500×2000×2100
6000×3600×2100
Machine Weight
ton
3.1
5
6.8
7.6
*Specification are subje

ct to change without notice